Now at Family Dentistry of Novi Same-day digital restorations.
Are you ready for a dramatically improved experience on your next crown or veneer? With E4D same-day digital restorations, get crowns, veneers and bridges that happen in hours instead of days – no more temporaries, no more multiple visits, no messy impressions.
Same-day restorations
Stronger, more precise fit
Beautiful, natural appearance
Relaxing patient experience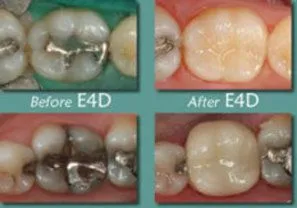 Same-Day Dentistry
Life is busy enough without having to make multiple trips to the dentist over several days. Now with Family Dentistry of Novi new E4D technology, you get lab-quality restorations in a single visit. First, we scan your tooth rather than take a conventional impression. Next, a custom restoration is designed to fit your unique smile. Then, your crown, filling or veneers are created with a state-of-the-art milling unit right in our office. The final restoration is placed in your mouth the same day.
Beautiful Results
The benefits of E4D go beyond same-day convenience. Your restorations will also look and feel completely natural. Digital precision means a perfectly comfortable fit. And, aesthetically, your metal-free restoration will match the look of your teeth for a beautiful, natural smile.
Digital Scans
The E4D digital scanner uses state-of-the-art laser technology that is not only extremely precise but also as safe as the checkout scanner at the grocery store. Unlike conventional impressions that can be messy, unpleasant and cumbersome, a digital scan is clean, fast and powderless.